No matter how much we want to escape from the urban jungle and hide from the noise of "civilization" on the hot beaches of the peaceful Goa in the shade of coconut trees, sooner or later it will be time to make a traditional tourist rite of shopping. Buying souvenirs before departure or arranging a life for a long "wintering", a thirst for new impressions or searching for authentic frames for a photo collection will lead you to noisy bazaars, tiny stores or modern shopping centers. All this is abundant in the smallest state of India.
Cодержание:
Our guide to the markets and shops of Goa will help those who plan their vacation in the new tourist season, which starts in mid-October 2018.
Some practical information:

the area of ​​the state is 3,702 square kilometers
territory to be divided into South and North Goa
Markets and shops in South Goa.
South is traditionally considered to be more calm and clean. It is chosen for a quiet family holiday: beaches with light sand, a large number of luxury hotels and restaurants, an appropriate level of service. Approximately 400 years ago the Portuguese colonizers built here a lot of large and small Catholic churches, public institutions and chic private villas. The great port city of Vasco da Gama was of great importance in those days : ships were sent from here, loaded with Indian treasures – fabrics, spices, tea, jewelry …  Even now this city is a busy business center with the largest number of residents in the state – more 100 000. Here is the only airport in the state – Dabolim, big railway station and Vasco city market. This is a very colorful place in the best traditions of Indian "exotic". Observed a peculiar zoning: tents with clothes and shoes, fruit, vegetable and meat rows. Nearby is the fish market, where fishermen bring their catch twice a day. The city is of little interest to tourists, and prices are targeted at a local resident.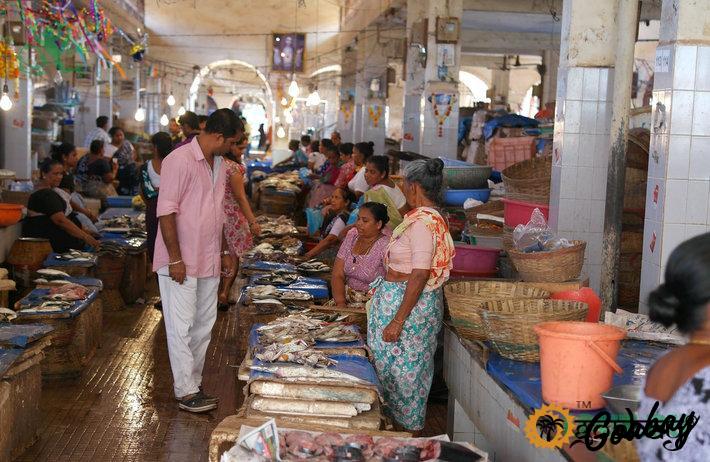 Margao Market
We are moving to the informal capital of South Goa – Margao. Life boils here: much more well-preserved Portuguese buildings, squares and parks, churches. There is bazaar also – Margo Market or Gandhi market. Large in area, noisy, colorful – all attributes of oriental color. You can find everything that you did not even think about – fruits, vegetables, nuts, spices, tea, souvenirs, clothes and household goods. And then the street food, causing a storm of emotions. This is a tourist place, so be prepared for increased attention and prices. Bargaining is possible and necessary. Nearby are interesting shops and boutiques with designer clothes, interior items.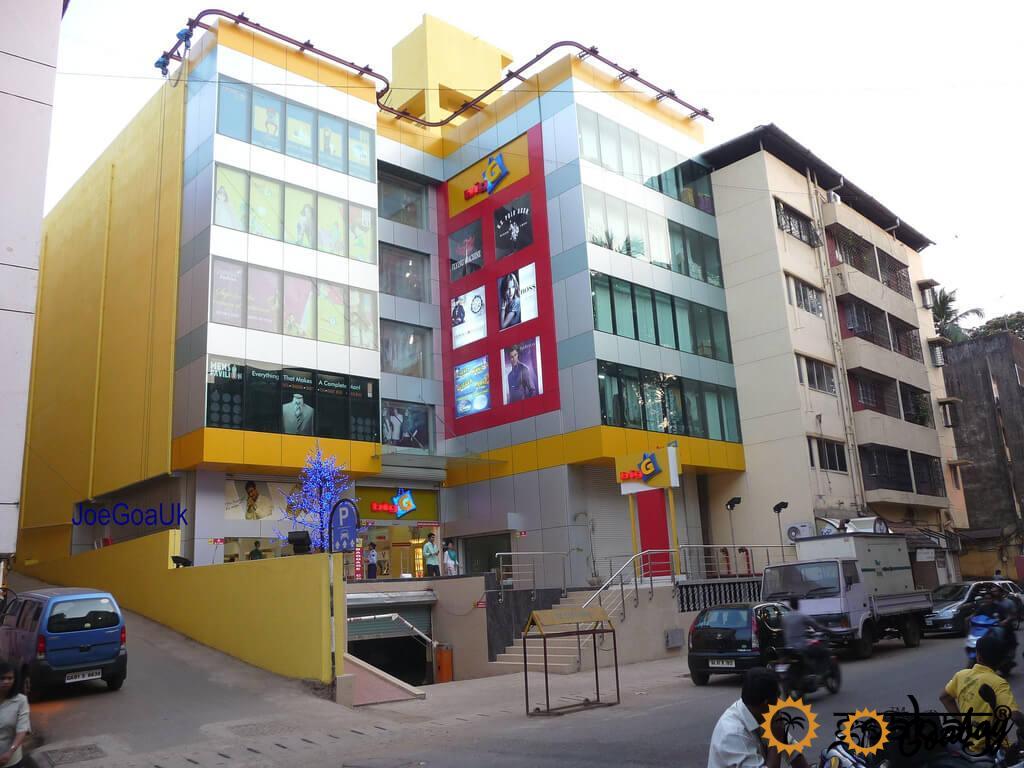 Big G Mall
This year appeared the New Margao Market – more calm and civilized. And for those who prefer an even more comfortable and unhurried environment, there is a shopping center Big G Mall. But do not expect anything supernatural – this is a modern multi-level building with shops, a restaurant and a food court which most important plus is cleanliness, the availability of air conditioning and the lack of persistent barkers. Local residents and Indian tourists usually spend their time here on weekends, including can be crowded.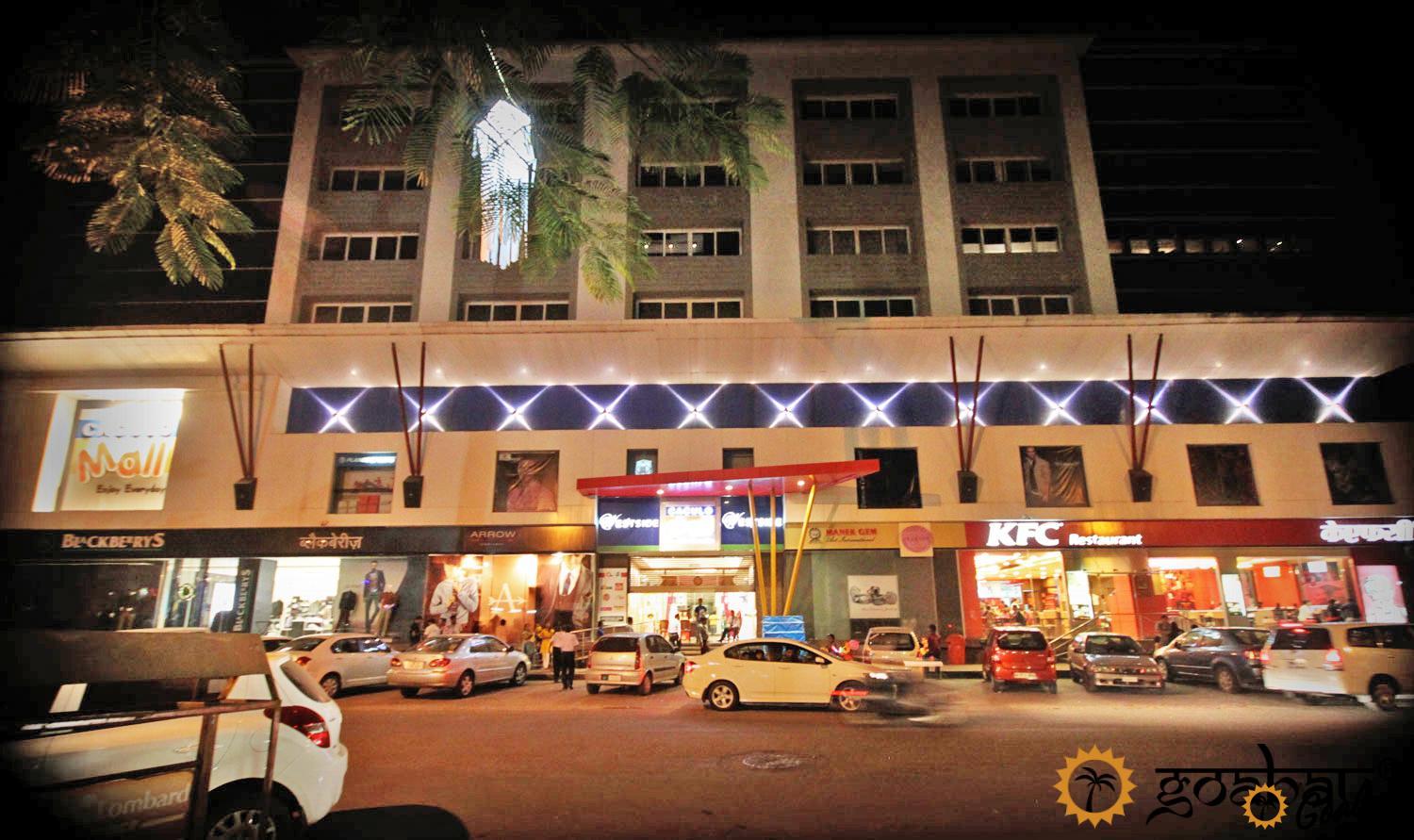 Caculo Mall
We are moving to the center of the state to its official capital – Panaji or Panjim (modern and historical name). The population is more than 60 000 people. This is the Indian version of Portugal – a beautiful, picturesque city with a rich cultural life, unusual sights and its own special atmosphere. I strongly recommend to visit it to diversify the beach vacation and see the other side of Goa. And it is one of the most popular place to go shopping.
In order not to get lost in the variety of options decide on the goal: if you are interested in high-quality clothing of famous brands at favorable prices go to 14'th June Street and Mahatma Gandhi Road; if you love unique products and works of art – there are several worthy galleries with paintings, sculptures, traditional Portuguese ceramics and dishes in the old Latin quarter ; interested in clothes of local brands – three-story Caculo Mall with air conditioning and fast food at your service . The indoor market in the city center deserves special attention. There is the food zone on the ground floor  – vegetables, fruits, nuts, sweets and fish, and there are clothes, shoes, jewelers on the second floor. There is a unique atmosphere: the walls are decorated with funny drawings of the famous Goa's artist Maria Mirando – these are caricatures on the theme of the daily life of the state. Sometimes there are small performances with live music. Evening after active shopping you can spend on the waterfront, ride a boat on the river Mandovi or enjoy the sunset in the popular place of Dona Paula with a view to the sea.
Headed to the North of Goa.
There is a nice little town three kilometers from the capital  – Porvorim. We are going to talk to, perhaps, the largest and most noteworthy shopping center at the moment – Mall De Goa. In addition to branded shops, coffee houses and a large supermarket there is a very decent cinema, a small bowling alley, a play area for children, a beauty salon, a large food court and a restaurant with a panoramic view.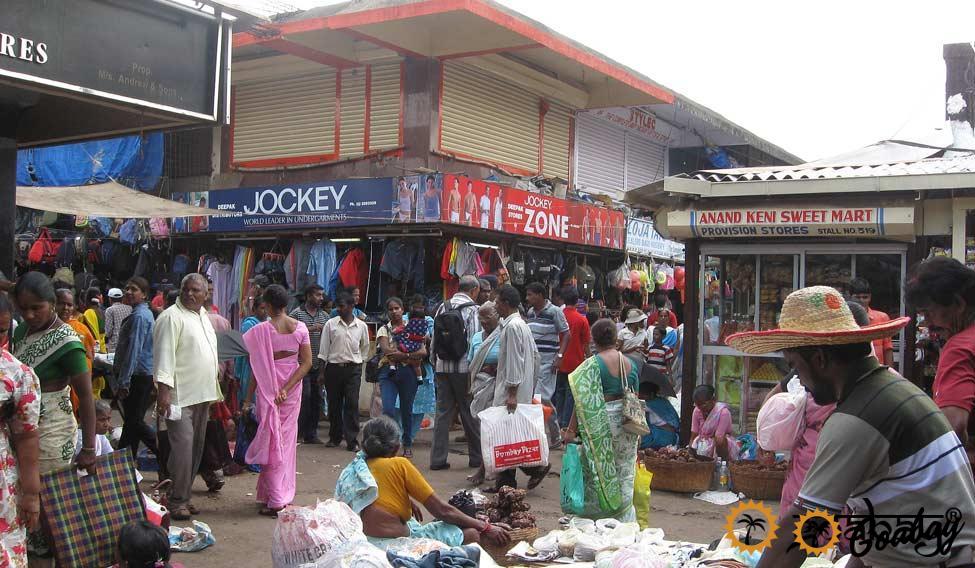 Mapusa Market
The way goes further through a major transport and trade hub in the northern part of the state – Mapsa or Mapusa. But in fact it is a small town, just there is a bus station and a market that is popular with both locals and tourists. On its perimeter there are small shops with fabrics, gold jewelers, clothes and shoes. Inside are vegetable, fruit and meat rows and stores with all sorts of stuff. Here you can find the famous perfumery of Rama Krishna for "aroma of aura" and incense. But personally I'm most impressed with the flower rows: I have never seen roses, chrysanthemums and marigolds selling kilograms, and jasmine garlands were measured in centimeters – very colorful. Scents from neighboring bakeries are also being brought here – fresh buns wrapped in a newspaper.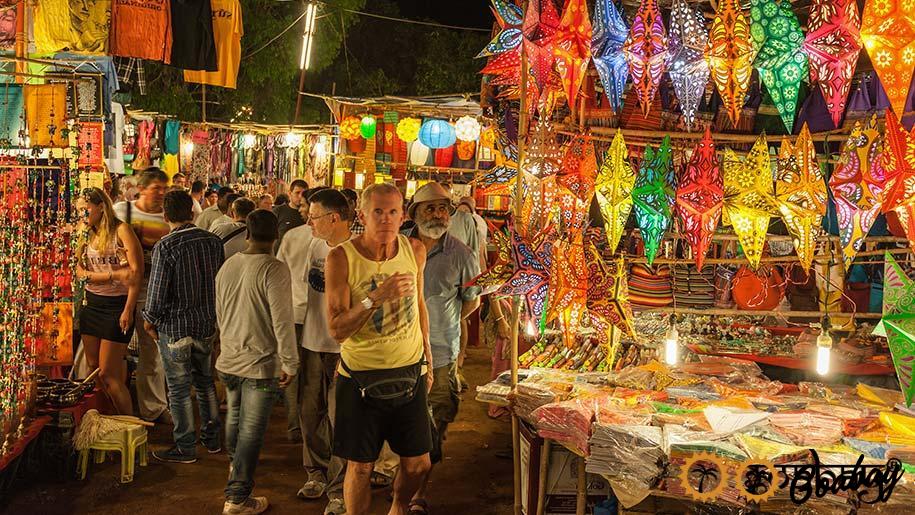 Anjuna
The hippies chose North Goa from the mid 60's . Children of flowers in search of their paradise on the land explored villages Anjuna and Arambol. Gradually from the fishing villages it turned into the abode of free love, nudism and all pleasures. But even the hippies, who condemned the "consumer society", needed to eat and live on something. First they began to exchange records, unpretentious fruits of their creativity, clothing. So there was a famous Flea Market on Wednesdays in Arpora. It is still there. True, most of the traders are Indians now. A maze of colorful tents with a variety of goods is scattered in a large open-air area every week . Noisy, atmospheric and fun. The only negative – it is very hot in the daytime.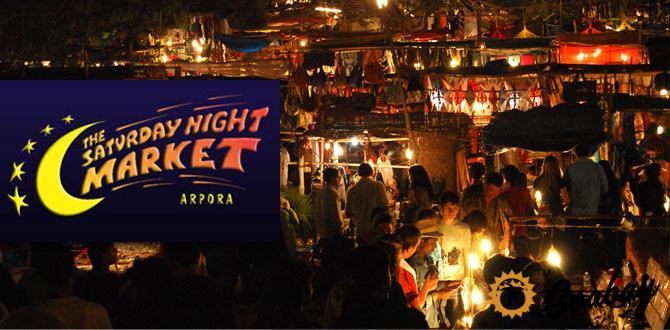 Saturday Night Market
No less famous and perhaps more popular alternative is Arpora Saturday Night Market. This is more than just shopping – this is a real attraction. Every Saturday a multi-tiered hill on the road between Baga and Arpora glows with colored lights, luring trade and fun into the cycle. Everyone should visit this place and then make their own conclusion about this. Several entrances to the market are equipped with metal detector frames, controlled security. Behind them begins the fabulous realm of wooden elephants, embroidered veils, silver jewelers and God knows what else.There is the main stage at the first level in the center. Musicians perform here, fire shows are arranged. There are also bars and cafes – according to the rule of "Meal'n'Real"! A pedestrian zone bordered by trade benches and tents rushes to the top. The higher you go up, the lower the level of constraint of the public and the moral principles in terms of fun. The Saturday night market is a big get-together, a meeting place for old friends, colorful characters and local freaks. In addition, here you can really find something unique: many talented European and local designers, jewelers offer their products. The place is popular s be prepared for traffic jams and for battle for parking spaces.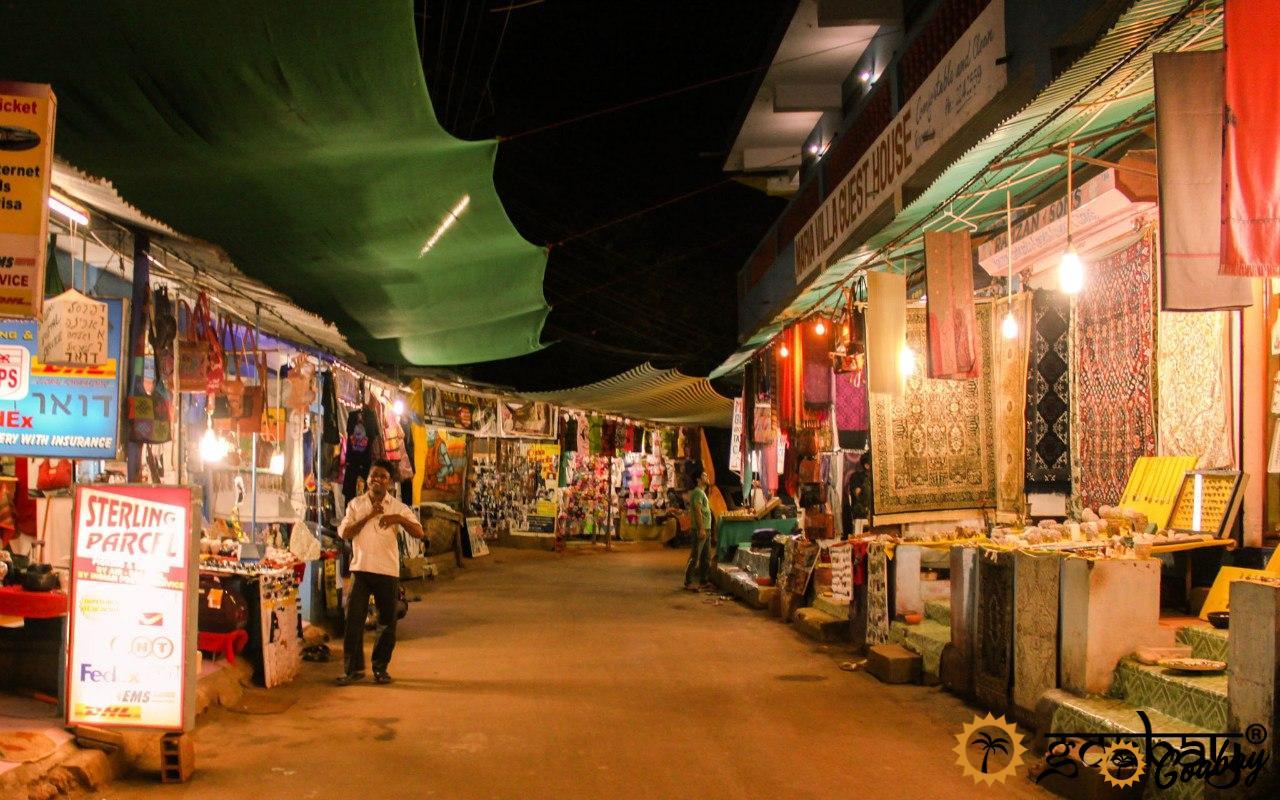 Arambol Market
Arambol Market it's a whole street. A wide road with narrow sidewalks and a large number of tents, shops and stores. Here you can find a wide variety of musical instruments, spices, tea, fruits, clothes, textiles, souvenirs and jewelry. All this is mixed with cafes, restaurants and guesthouses. By the way, at the sunset, which is so famous for Arambol, an improvised trading line is built right on the beach every day. Here representatives of different countries, ages and professions demonstrate their skills: author's jewelry, paintings, divination by tarot cards, massage, horoscopes, books, clothes and even homemade cakes! All this is surrounded by a relaxed atmosphere of the sun sinking into the sea under the drum rhythm .
The Candolim Market is less entertaining, but more practical. There are also branded clothing stores and luxurious as oriental treasures of souvenir boutiques and a small vegetable market in the Portuguese style.
All this diversity of markets and bazaars obeys a few simple rules:
work from 08:00 (fish markets open even earlier) until 14:00, followed by a break during the heat until 4:00 pm;
there are informal shops for currency exchange (sometimes at a very favorable rate) in almost all markets ;
special "helpers" who, in decent English, will ask about what you are looking for, will lead to the right shop (the owner of which pays them a commission for new customers), and then they will ask you to look at their goods also;
bargaining is the essence of the work of sellers, they get their money just for communicating with the client – do not hesitate to call the price 2-3 times lower and then look for a compromise with a smile;
be sure to keep your belongings safe;
Shopping in the eastern markets is a real adventure, and which one is the best in Goa you should decide by yourself! Leave your feedback in the comments!