Remember portraits of European ladies of 15-16 centuries: snow-white skin, a calm look, hands chilly wrapped in a fur cloak. This is the time of the heyday of the popularity of stoles in the Old World. Initially they represented a rectangle of fur skins of sables, ermines and martens. Later fur was used only as a rim and the canvas was made of fine wool, silk and other fabrics. Nowadays, wide and long scarves are called stole. They can be monophonic and with an intricate pattern, decorated with fringes or brushes.
Cодержание:
The History of the Stole
Italians – recognized lawmakers of the world fashion – proudly attribute the invention of the stole to the ancient Romans. Traditional clothes of that time included a mandatory cloak. Male version – "Pallium" – was rough, thick and fixed with a metal buckle. The female model – Palla – was lighter, flowing.
But do not forget that a scarf or shawl is a characteristic element of the national costume of many peoples of the world. So in Northern India as far back as the 3rd century BC. wore stoles of soft goat's down – the famous cashmere. They are made by hand until now.
Scarf in India
It is very difficult to imagine an Indian woman without a scarf – here it is called Dupatta. Dupatta necessarily complements the traditional set of shalvaz kamiz, which consists of kurta and  bloomers. Indian woman will choose a simple scarf made of cotton, fine gauze or even synthetic fabric for everyday life, but for a holiday even a girl from a poor family has a variant of a bright silk. Wealthy Indians collect whole collections of incredibly beautiful scarves from air muslin, delicate chiffon, natural silk with rich decor – beads, crystals, sparkles and even precious stones.
The image of scarves-palantines can be found in miniature sculptures of ancient civilizations. They are mentioned in the sacred texts.
Color had an important meaning:
Red – the color of life, joy and well-being, used at weddings;
Orange (saffron) – a shade of fire; for women symbolized loyalty and family hearth, for men – asceticism;
Yellow – is associated with wisdom, knowledge, teaching and cleansing;
Green is a natural color, meaning happiness and tranquility, sacred to Muslims;
Blue – a courageous shade of power and strength;
White is the color of peace and holiness;
Patterns are mostly of animal, vegetable or geometric character. And this also has a deep, centuries-old meaning. Along with elephants, tigers, peacocks and lotuses one of the most famous drawings on palatines is the "Turkish cucumber" or paisley.
It penetrated in India from the ancient Sasanid Empire. What exactly is it portraying? It is not known until now: flame, cypress silhouette, cashew nut or mango – all of them were symbols of the triumph of life, prosperity and well-being. But in Europe in the 17th century it was associated with a fairy, distant Hindustan and had a crazy popularity. Soon oriental cloth began to be actively produced in the small British city Paisley, which gave the second name to the pattern.
Secret of the indian Stoles
Thin, but 8 times warmer than ordinary wool, soft Indian stoles are an object of special pride of the masters of Northern India. I'm sure that many of us dream of an elegant scarf from real cashmere. The finest wool, which is obtained from the down of goats, grown high in the Himalayas is valued all over the world. And the state of Kashmir with three main production centers of shawls (Srinagar, Budgam and Ganderbal) has become a real mecca for connoisseurs of luxury cashmere. Surely you've heard such an enveloping and pleasant word as pashmina. Some people think that this is the name of a special kind of Kashmiri shawls. In fact, it is of Persian origin and is translated as "soft gold". This is the designation of wool, from which really unique products are obtained. What is the different between pashmina and cashmere? Fluff for pashmina is combed from the neck and belly of a goat, in these places it is especially tender. And then follows the time-consuming process of twisting the thread, weaving and coloring. And almost all the steps are performed manually. And this is the main secret of the incomparable Indian stoles.
How to choose and where to buy
Nowadays more attention is paid to supporting the local small producer and preserving the original crafts in India. A patent was registered in 2008 for the production of Kashmiri shawls called Kashmiri Pashmina.
The main features of a quality product:
The weight
The thread for weaving the canvas is thinner than the human hair; weight of 1 sq.m.  pashmina is about 125 grams. Often real Kashmiri shawls are called weightless.
Composition
100% pashmina – this is a real luxury.
One goat gives no more than 150 g of fluff and more than 1 kg of raw material goes to make a complete shawl.
70% pashmina and 30% silk – the most common combination.
80% pashmina and 20% silk – one of the variations, called "summer pashmina".
Unfortunately, in the pursuit of benefits synthetic threads are increasingly added to the composition of the stoles. Take out a thread from the untreated edge (a conscientious trader, who is confident in the quality of the goods, will allow you to do this) and set it on fire – it is good if ash remains; It's bad if the thread starts to melt.
Price
I have already mentioned about high cost of natural pashmina. And you understand that the original product can not cost 300 rupees, which is grumbled by grimy barkers at the tourist bazaars of Goa. In the same place one of the sellers secretly told me that the prices for mediocre Kashmiri stoles start from 15 thousand rupees !!!
Where to buy the coveted oriental scarf? The beauties of Kashmir attract travelers who leave the blessed land with a pair of three wonderful shawls. But for those who are not ready to leave their native lands the Internet gives the opportunity to easily overcome long distances – to buy exclusive heat inexpensively through sites.
How to wear Stoles
And again the Internet hurries to help in this matter!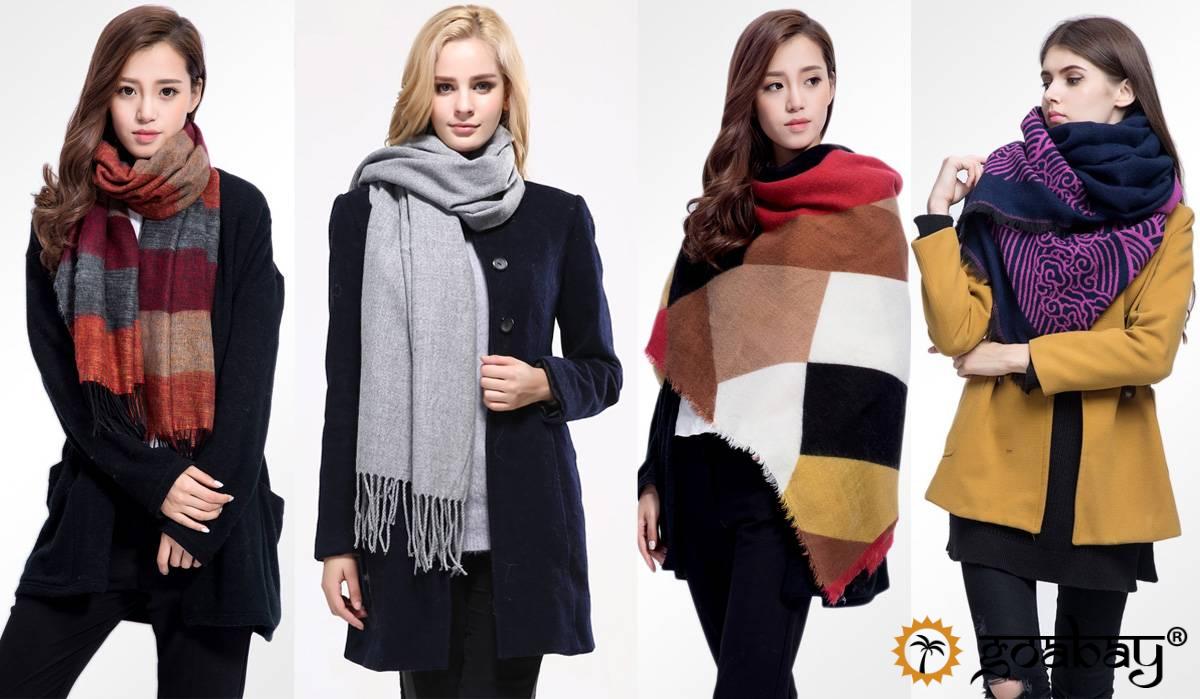 You will find a lot of descriptions, detailed instructions and video tutorials on how to effectively stain with a stole. Beautifully tie it on your coat or supplement with a bright accessory one-color dress? Do you want to create a trendy oriental turban on your head or turn it into a cloak? Elegantly tied around the neck or carelessly left on one shoulder? There are huge number of variations. All the charm is that you can master and use it one by one, admiring others.