Ethnic jewelry from India gets more popular every year. Is it something mystical and mysterious! At the same time, each decoration is unique, 90% work in the ethnic style of the master performed manually, every pattern and every incredible interlacing – it is unique and it is only for you.
Most of the decorations all over the world are doing it in India. Addicted to the Indian jewelery is known since ancient times. This characterizes their way of life and culture today. Jewellery in India you will see on every woman, without exception.
India – the largest exporter of gold – more than 1,000 tons of brilliant precious metal each year, send to. Indian master – real virtuosos of jewelry. They create a unique decoration, exporting them to many countries.
Jewelry in India is a national wealth, a reflection of culture and mentality.
Few modern women of fashion think about the ancient roots and symbolism of jewelry.
Jewelry was designed to activate the chakras, protect from the evil eye, increase the well-being of the family and success in the affairs of the spouse. By far, the most popular gift for any holiday in India is jewelry. Husbands honor traditions and thus contribute to the prosperity of their business. It is through a woman that wealth and happiness will come to the house.
For the bride there is a special set of jewelry from 16 elements. He is called Shringar and is associated with the veneration of the goddess Sri Lakshmi – she is responsible for material wealth, fertility, beauty. The set consists of bracelets on arms and legs, rings, jewelry for the head, belt, etc.
Modern Indian jewelers also create jewelry – a budget jewelry made of less expensive materials. In the course is plastic, different kinds of wood, glass and ceramics, stone and even paper – imagination there is no limit.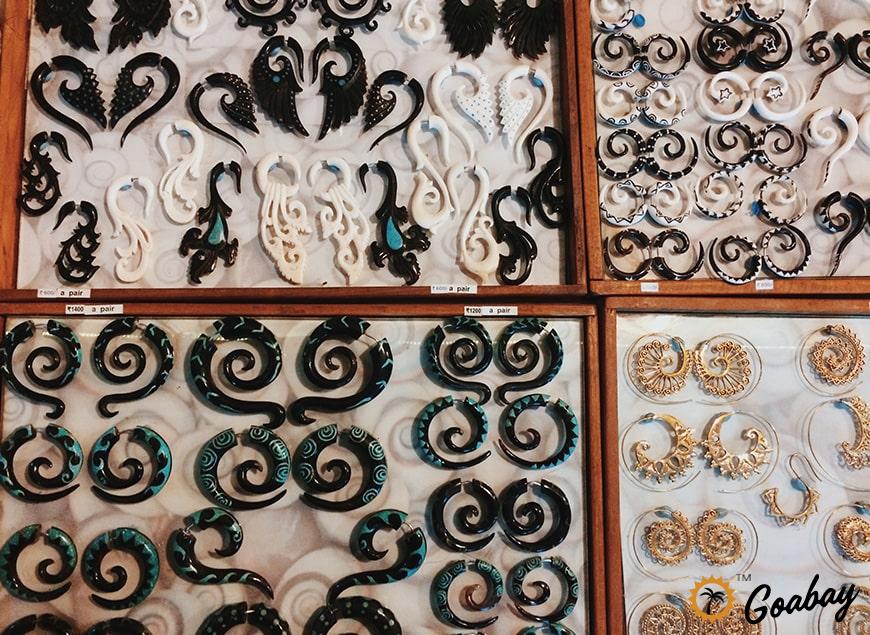 Despite this, the usual jewelry, unlike real jewelery of high-grade gold, inlaid with large diamonds, it looks just as impressive and capable of hitting any imagination, meeting the requirements of the most demanding ladies!
Unfortunately, not all of the jewelry belongs to our girls and women. In Europe, Russia, the United States brought only a small part, created in India, jewelry, and tourists, first time visiting local markets and jewelry stores, and sometimes lost. Women are particularly attracted by such Nonfictional luxury!
Materials
Of particular importance in jewelry was given to the materials from which they were made. Gold was in high esteem, but it was recommended to be worn only on the upper half of the body as a sign of respect to the goddess Lakshmi. Silver was most often used for legs. It was not by chance that stones, colors, ornaments and forms of jewelry were also chosen.
An assortment of jewelry from India
In the arsenal of the Indian jewelry all that is possible to desire. Here and intricate brooches in the form of flowers or fruit, different caliber rings for fingers, legs. Especially colorful and unusual look decoration for the nose – not so long ago, they became fashionable in Europe.
Bracelets
A special element is bracelets – without them, a married woman will never leave the house. It is believed that their ringing reports about her presence, about the need for attention to her. There is even a "Bracelet ceremony": a woman wears bracelets throughout her pregnancy, the sound of which distracts demons from the baby. It is believed that the bracelets on the legs scare away snakes, in addition to the fact that they effectively emphasize the elegant ankles.
Rings
Decorate fingers and toes, but at the same time stimulate important points on the body associated with internal organs. So the rings on the toes, which are worn in pairs on the left and right, massage the nerve endings responsible for harmonizing the menstrual cycle and the reproductive system.
What jewelry from India to buy?
Any store or the market is replete with traditional Indian jewelery – Haar (all kinds of jewelry on his neck – luxurious string of pearls, shiny protective amulets and pendants), Arsi (a ring with a mirror), as well as paints for painting on the body – mehendi.
In the modern world, the practical significance of Indian jewelry has given way to their aesthetic value. Fashion for Asia in one form or another wakes up almost every season. Bright jewelry perfectly combined with strict outfits, and with everyday outfits.
On our site are presented:
Bracelets on legs
Foot rings
Necklace
Finger rings
Lockets
Jewelry sets
Earrings
Bracelets
How to choose Indian jewelry?
The choice of jewelry is a kind of meditation for a woman. Focus on intuition and positive emotions awakened by watching and trying on. Consider the features of your wardrobe, as well as individual features – face shape, proportion. If you want to combine the beautiful with the useful, then do not forget about the individual compatibility of stones, metals, which can have a significant impact on your mood, energy and temperament.