Arpora Night Market – It is difficult to find someone who has not heard about the largest night market on the coast in Goa! For many years this market attracts people from all over the world by its atmosphere, mystery and simplicity at the same time! Everyone will like it without exception, because there you can find everything – shopping, food, entertainment. Below we will tell you a little bit more about Arpora night market.
HERE YOU CAN FIND LITERALLY EVERYTHING
Content:
Looking for clothes?
Are you looking for clothing? There are lots of clothing for any taste and wallet at this market. From local sellers you can purchase traditional Indian sari for girls and women, for men – lungi. And very famous alladin pants. Despite the length of the pants it is pleasant and not hot in them, you can wear it even under the burning Indian sun.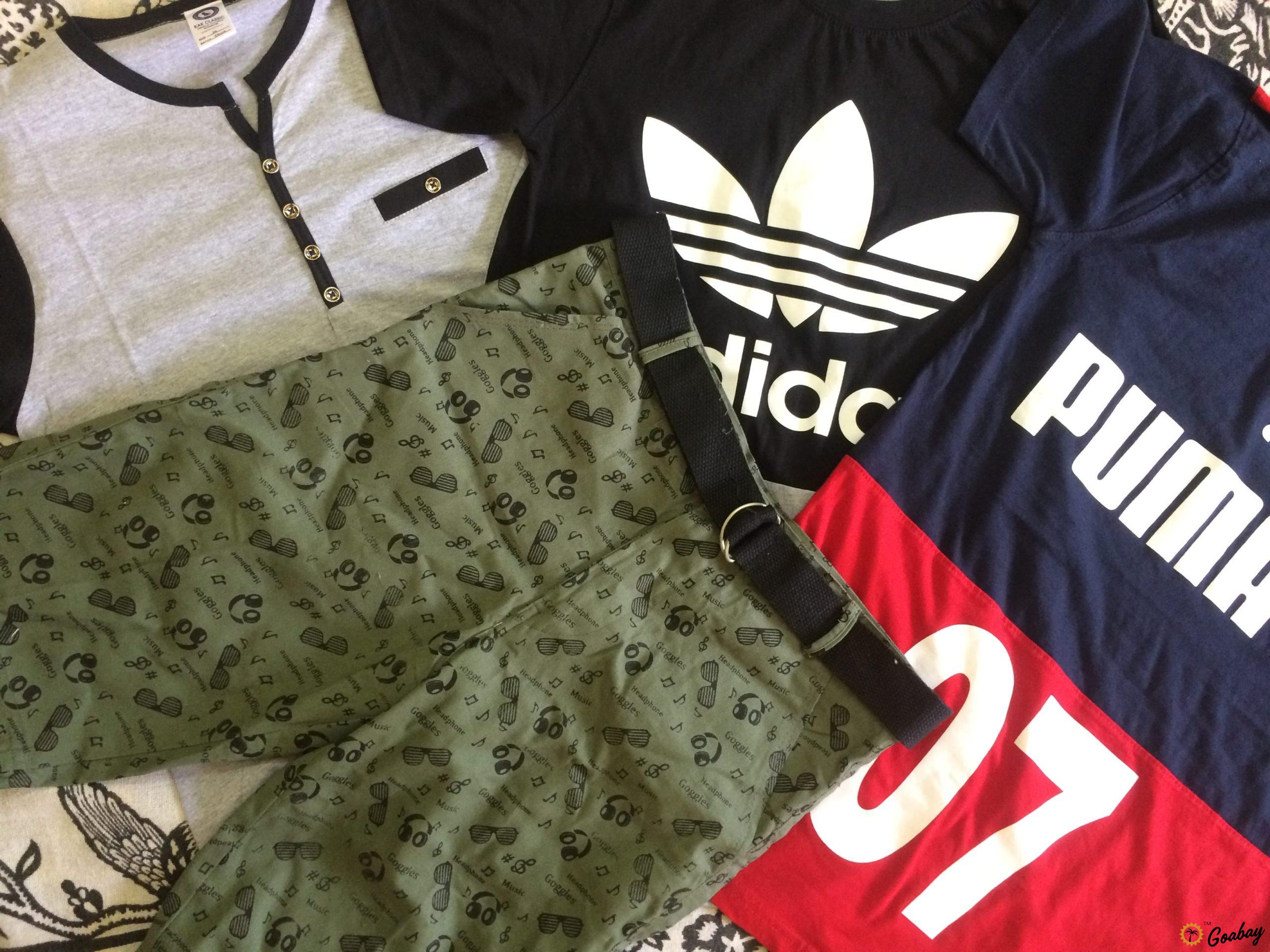 If you like indian clothes not so much, for you there are European sellers on the market, from whom you can find clothes of various styles. But there are two clothes styles which is more popular in Goa! About them below.
The first is the "Goan" style, which is originated in the state of Goa and is recognizabled worldwide. It is famous for its unusual underground style, all shades of black and other dark colors, so the dust settling on the clothes from the roads will not visible, and things can be easily cleaned from the dirt. And, of course, unique prints! These are all kinds of abstract drawings created by top artists from all over the world under the influence of trance culture, fluorescent prints, which are popular among those who like to attend local techno and trance parties and music festivals.
The second popular style of clothing in Goa is gentle pastel clothes, made of natural flax, cotton and silk. These clothes let the skin breathes, and it is pleasant to be in it even on the hottest day. If you prefer European quality, you should be ready for overpayments as well. Such clothes are more expensive then ordinary Indian clothes. On the other hand, these clothes will serve longer.
If you don't want to buy traditional Indian clothes and you don't want to overpay for European clothes, you can find several stock shops on the night market, where each thing costs from 100 to 600 rupees, and it is easy to find clothes from famous mass markets like a H&M for example.
Shoes
And a few words about shoes. We like the shop with hand-made sandals made of natural leather, you can choose among a dozen designs, you definitely will wear it for a long time, because natural leather over the years becomes only more beautiful.
Household products
In addition to clothing, you can find many home goods on the market, ranging from beautiful sheets and painted covers to oriental interior items. Aroma candles and sticks, hand-painted lampshades, engravings, bronze figurines and much more – it is impossible to tell you about the whole assortment! You should see this by your own eyes. And we would like to advise you take a look at warm wool palantines, even in Goa there is so cold in the evening time, and then the palantine can be used at home as a plaid.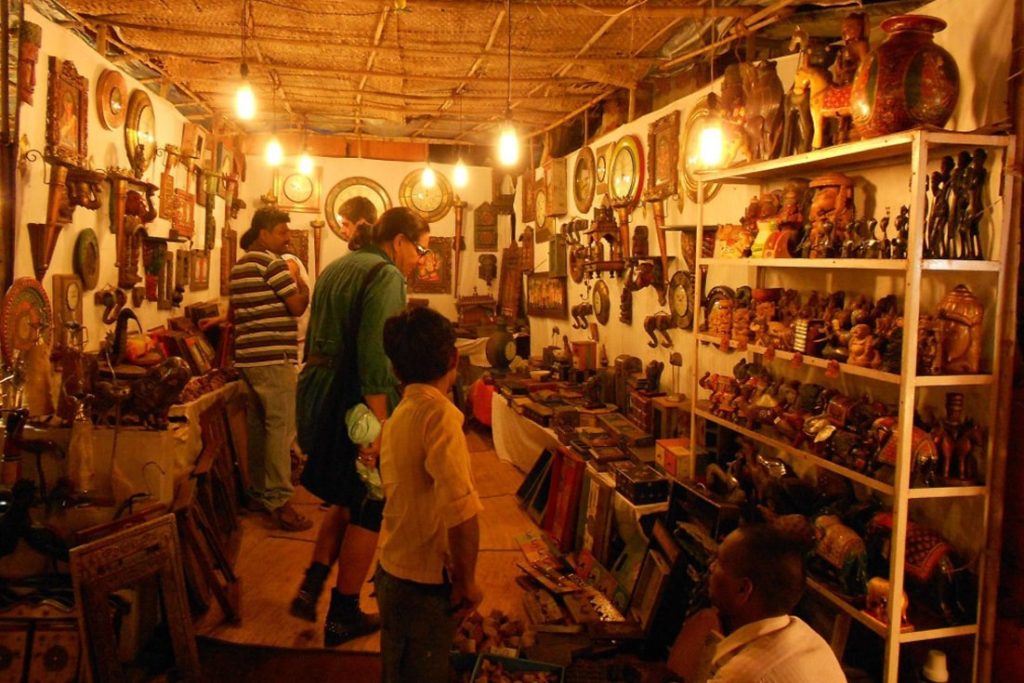 Jewelry
And of course we cannot fail to mention the jewelry! There are lots of rings, bracelets and chains made from 925 silver. There are also ethnic Indian earrings made from bronze and non-silver material and gold plate.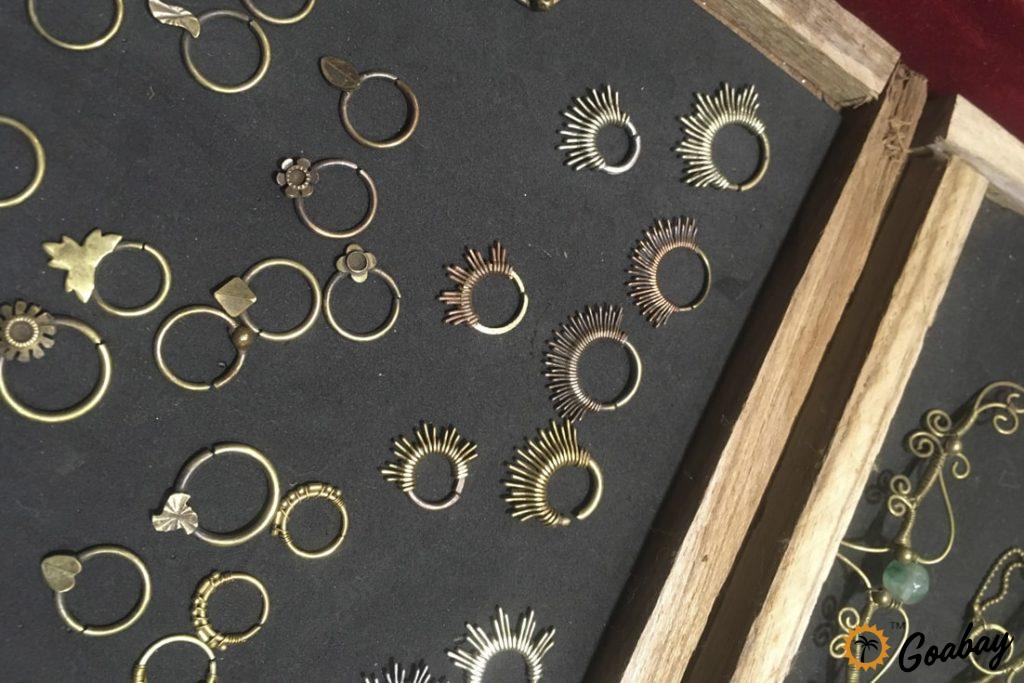 Souvenirs
Everyone who has visited Goa is obliged to bring a small Indian souvenir with them. But if your luggage is full or you have forgotten something, then it does not matter, we will send you any souvenir by mail.
Indian spices
Indian spices can be found here at every step – this is a real treasure not only for culinary experts, but also for Ayurvedic doctors, cosmetologists and even modern Indian artists!
FOOD COURT
After a successful shopping or in your breaks between it is nice to eat something. The night market has a food court for guests, where everyone will find something to their taste. You can try here Italian pizza and Belgian waffles with sweet filling, chicken shashlik for meat lovers or traditional Indian sweets. In special places you can order various alcoholic cocktails for takeaway or buy soda in glass bottles. At the same place there are tables with benches where you can sit down and eat calmly, garbage should be thrown away after taking meal. You can use special baskets for garbage.
CONCERTS AND LIVE MUSIC
You can relax perfectly and enjoy performances in the special concerts area. This area is located in the middle of the market. In front of the stage there is a large number of chairs so that everyone can sit down and rest. Live music and dancing girls in traditional Indian suits with the fire on their heads will not leave you indifferent. By the way, here you can buy musical instruments.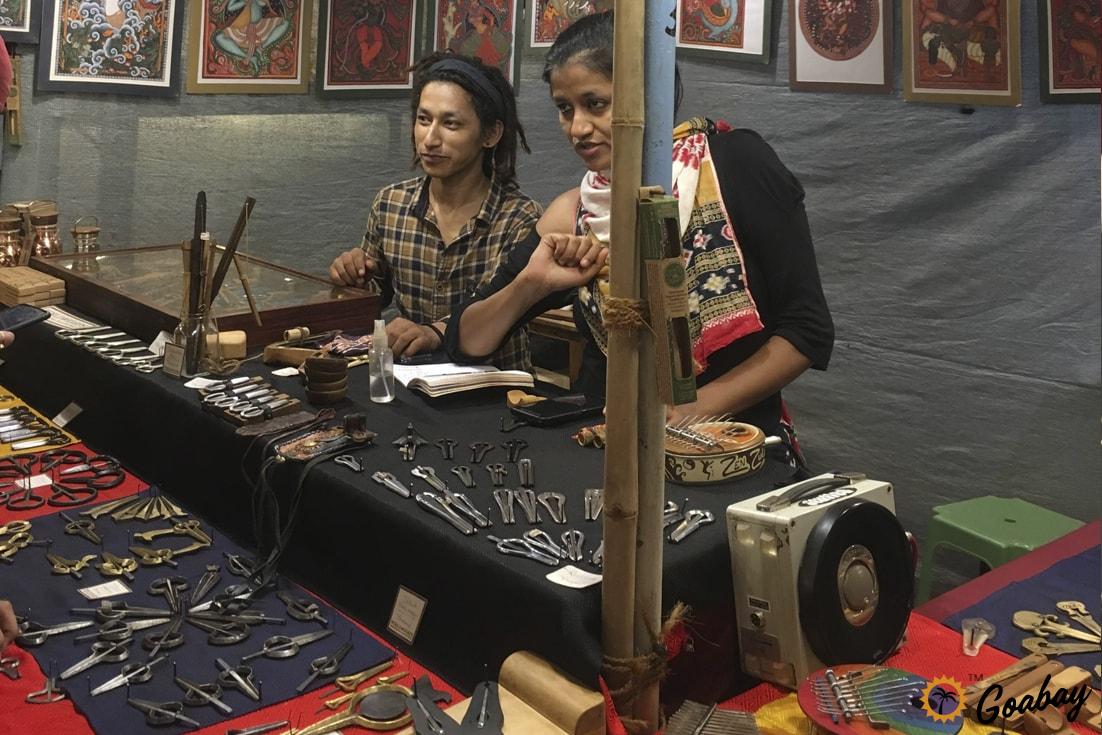 WHO SHOULD VISIT THE Night Market
Our answer is brief – everyone should visit Arpora night market in Goa! With family, with friends, even if you travel alone – do not miss the chance to visit and feel this unique atmosphere!
OPERATING TIME OF THE Night Market
As a rule, the festival starts at six o'clock in the evening and ends at 3 o'clock in the morning. It is the perfect time for shopping when the sun goes down and you feel night cool breeze. Don't forget to take your jacket with you, it could be cold on the way back!
HOW TO REACH TO Night Market
It's so easy to find Arpora night market! You can find the geo-position on maps such as "Google maps" or "MapsMe". For "Google maps" you should have the mobile internet. If you use "MapsMe" app you can download the map of Goa on your phone and use this map later without mobile internet.
The road from Arambol to the market usually takes aprox. 30-50 minutes by bike. Closer to the market usually there is a traffic jam because of the large number of people who wish to visit the most famous market on the coast of India.
TIPS FROM GOABAY TEAM
We advise you to come to the market after 10 pm. There is less motorbikes and cars on the roads and more fun activities and live music on the market.
If you buy any goods from Indians, don't forget to ask about a discount! If you buy goods from Europeans – you can take a small discount only if you take a few positions.
If you want to grab the goods at the most pleasant price, go shopping at the last hour of the market. Before closing sellers become more cooperative and ready to give you good discount 🙂
We hope so much that the article was useful for you! Good purchases and compliant sellers too you
If it is not yet possible to visit the night market in Arpora – you know that the GoaBay team is always ready to make all shopping for you and send to you any goods from India as soon as possible! We sell worldwide.
Write to us on [email protected] about what you would like to find and buy, and we will make it all for you!