Dentistry and medical tourism to India is very popular. Acute toothache can ruin your mood. What if this trouble happened during a vacation in another country? And if this country is India ?! Let's see if there is a reason for panic.
Content:
Classical Dentistry in India
We have already talked about the phenomenon of medical tourism in India in previous articles: the high level of professionalism of doctors in comparison with low prices attracts a huge number of people from all over the world. The direction of dentistry is very popular among Europeans and Americans. We are talking about private clinics where visitors will not encounter vivid Indian stereotypes: unsanitary conditions, infections, sweltering heat and noise. Sterile medical rooms equipped with modern equipment; attentive doctors who are fluent in English (many dentists are educated in Europe); attentive staff who have undergone special training all this at an adequate cost.
Prices for dental treatment in India
Of course, it would be foolish to start a trip for the sake of a single filling, but you can combine a pleasant stay with a useful visit to a local dentist. The price of this service varies from 25 to 60 dollars depending on the material: plastic, glass, porcelain and even silver. In most cases "dental" tourists are guided by an integrated approach. This includes diagnostics (symmetroscopy, cephalometry, photogrammetry, electromyotonometry, X-ray), orthodontics, prosthetics (implants) and many other areas including pediatric dentistry.
Indian doctors successfully cope with acquired or congenital diseases: caries, gingivitis, periodontosis, maxillary anomalies. Those who are afraid of pain will be pleased with innovative treatment methods – laser therapy (incisions without scars and bleeding) and chemical-mechanical effects only on the affected areas, in which even anesthesia is not required.
Do you dream of a perfect smile?
Then trust the specialists in clinics of Delhi, Mumbai, Gurgaon, Bangalore. High-quality prosthetics based on modern materials (zirconium oxide, titanium, ceramics, polymers), veneers that are popular now and bleaching will cost less than at home.
Unfortunately, the prices for dental services in clinics and private rooms, pleasing tourists, are most often sky-high for local residents: only wealthy Indians can use them. For less affluent residents public hospitals or hospitals at medical schools are available. By the way, a foreign tourist can also go there, who wants to save on treatment, but is willing to spend his nerves waiting in lines and explaining with a doctor in a mixture of English and Hindi.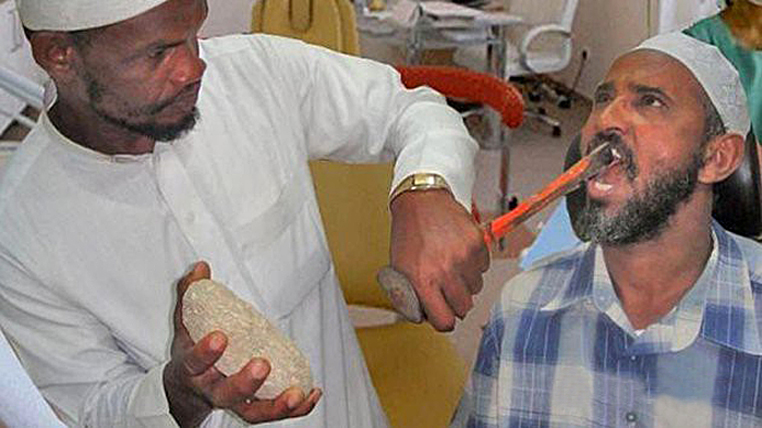 Another surprise awaits the unprepared traveler on the streets of major cities of India: an Indian man cleverly corrects a client's smile with a rasp. His colleague and competitor pulls out a bad tooth, using cheap rum instead of anesthesia. Boiling water or all the same rum is suitable for sterilization. Thousands of street dentists work like this. And no matter how wild this picture seemed from the side, they have no shortage of clients. In a country of contrasts anything is possible: in a few rupees they will relieve pain or even make an false jaw.
Dentistry Ayurvedic approach.
Traditional Indian medicine, as always, focuses on prevention. For dental health it's worth enriching your diet with foods with calcium, magnesium and zinc. White sesame is perfect for this: every morning carefully chew a handful of seeds, rub the residue into your teeth – this cleans and polishes them. You can massage the gums with sesame oil, and even better, rinse your mouth intensively. This method helps to get rid of toxins accumulated overnight, infections and tooth decay.
If you will use coconut oil for rinse you will notice that the teeth have become much whiter after a couple of weeks. Another oil that will be a salvation for sensitive to hot and cold teeth is tea tree oil. Most often, such a tooth reaction occurs during periodontal disease due to infection, but if you apply a couple of drops of oil to a toothbrush or floss and treat the affected area with it, the sensitivity will decrease, and the infection will cease to spread.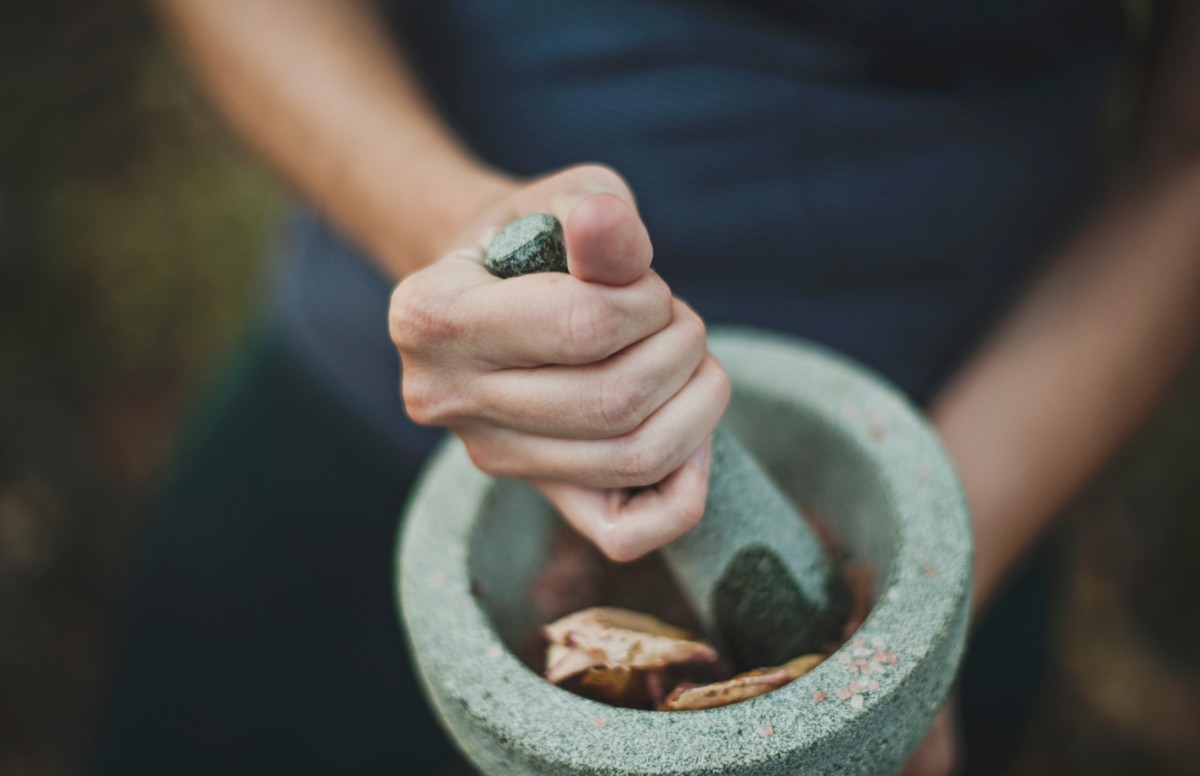 General strengthening of the body with the help of dietary supplements has a positive effect on the condition of the teeth. Try delicious and healthy ayurvedic jam based on herbs and minerals Chawanprash. You can buy it at any pharmacy in India or order online.
Inexpensive Ayurvedic toothpastes are becoming increasingly popular. They have a rather specific taste. The thing is a combination of spices: pepper, cloves, ginger from ancient times have been used to maintain oral health. But fluoride, which is added to regular pastes, should be avoided as well as mouthwashes – replace them with plain water. But real experts in Indian medicine recommend using tooth powders. Herbs (lohdra, kushta, Vilva) and other natural ingredients are used for manufacture.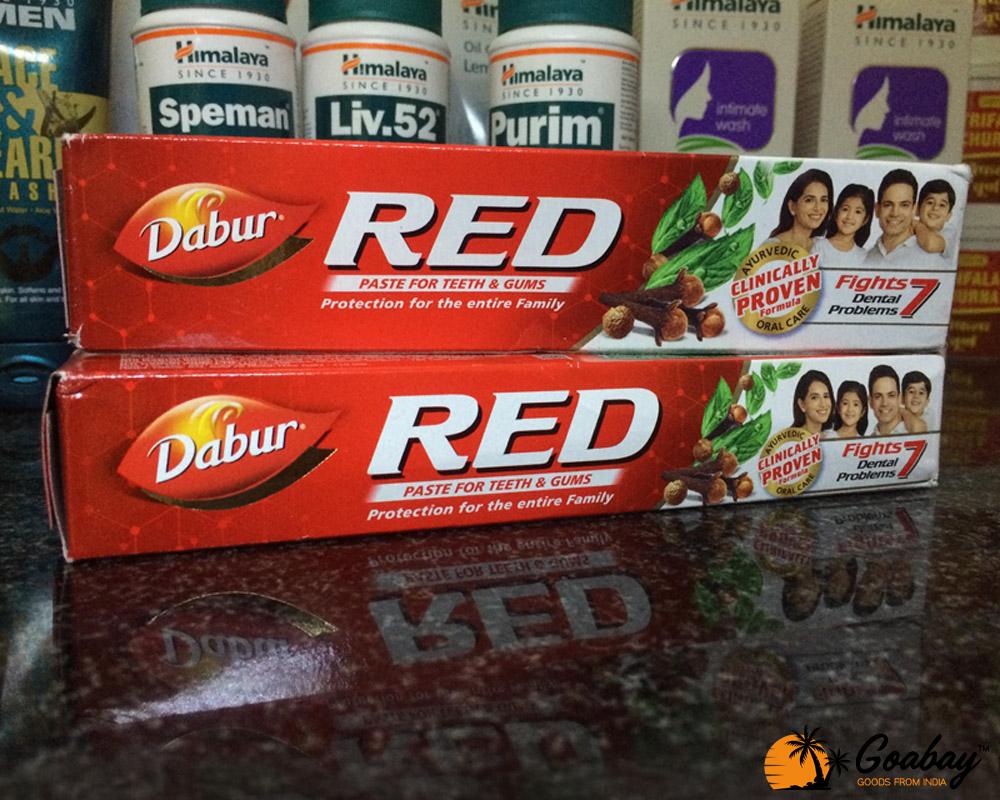 Accustom yourself to gymnastics for teeth: 5-6 times close the jaw gently banging the lower teeth on the upper. Thorough chewing of food will also be an excellent exercise that stimulates the blood circulation of the gums.
Explore the range of oral care products on our website: children's and adult toothpastes, clove oil for toothache relief and much more at low prices with delivery from India.
GoaBay team wishes you as many reasons for a healthy smile! Follow us on our Telegram